Regular price
Sale price
€6,00 EUR
Unit price
per
Sale
Sold out
Rebalancing cleansing treatment for combination to oily skin types. 100% Natural Ingredients. Made in Paris
Activated Charcoal: absorbs environmental pollutants and toxins, detoxifying your body. It fights imperfections, pore obstructions and excess sebum.
Peppermint essential oil: soothes inflammation, irritation and itchiness on skin and scalp.
Tea tree essential oil is know for its antiseptic properties and antibacterial and anti-inflammatory.
Ingredients: Olive Oil*, Water, Coconut Oil*, Fair Trade Shea Butter, Sodium Hydroxide, Almond Oil*, Cocoa Butter*, Castor Oil*, Vegetable Charcoal Powder, Peppermint Essential Oil*, Tea Tree Essential Oil*, Kaolin Clay, Jasmine Flowers
* CERTIFIED ORGANIC INGREDIENTS
View full details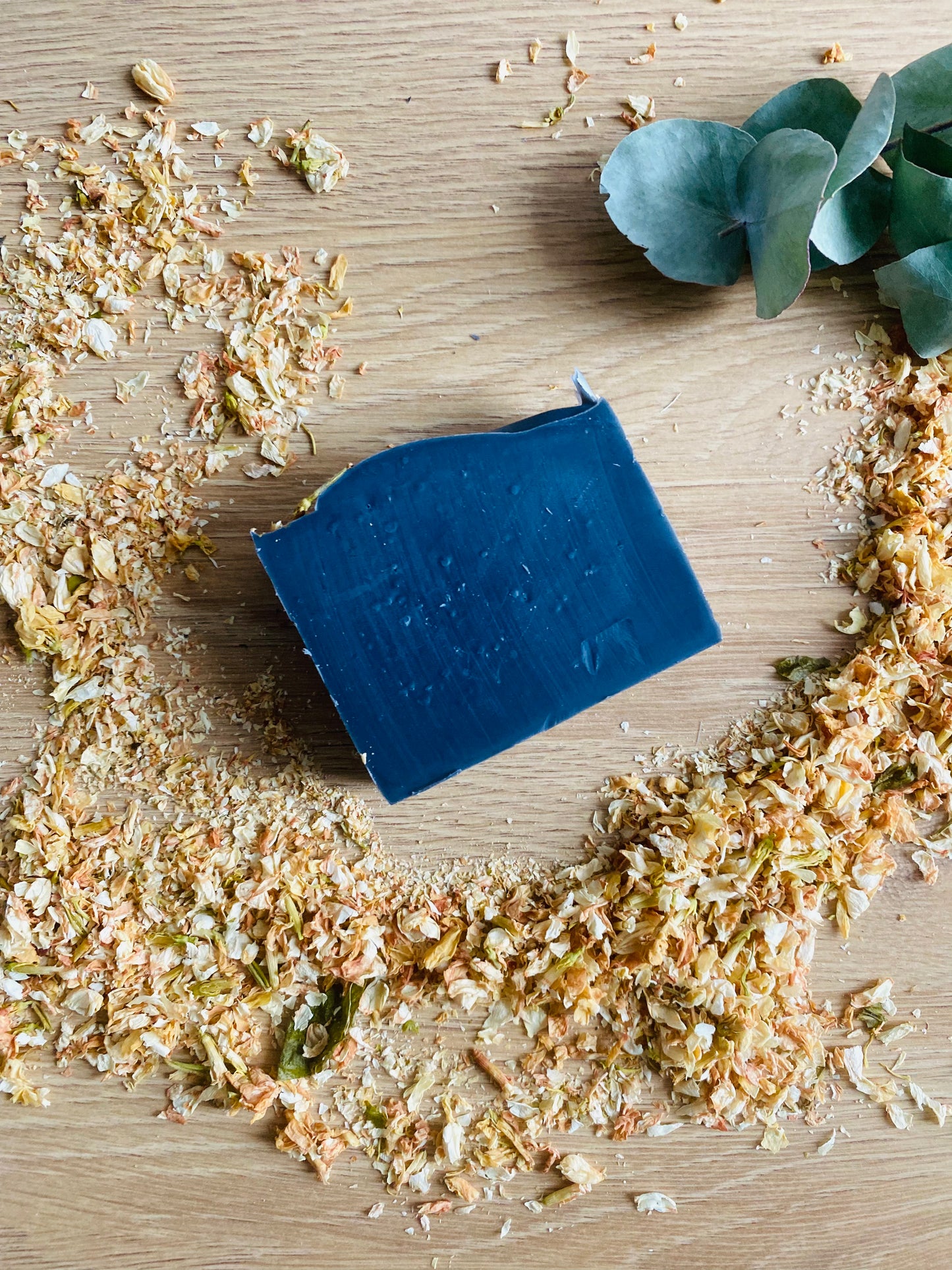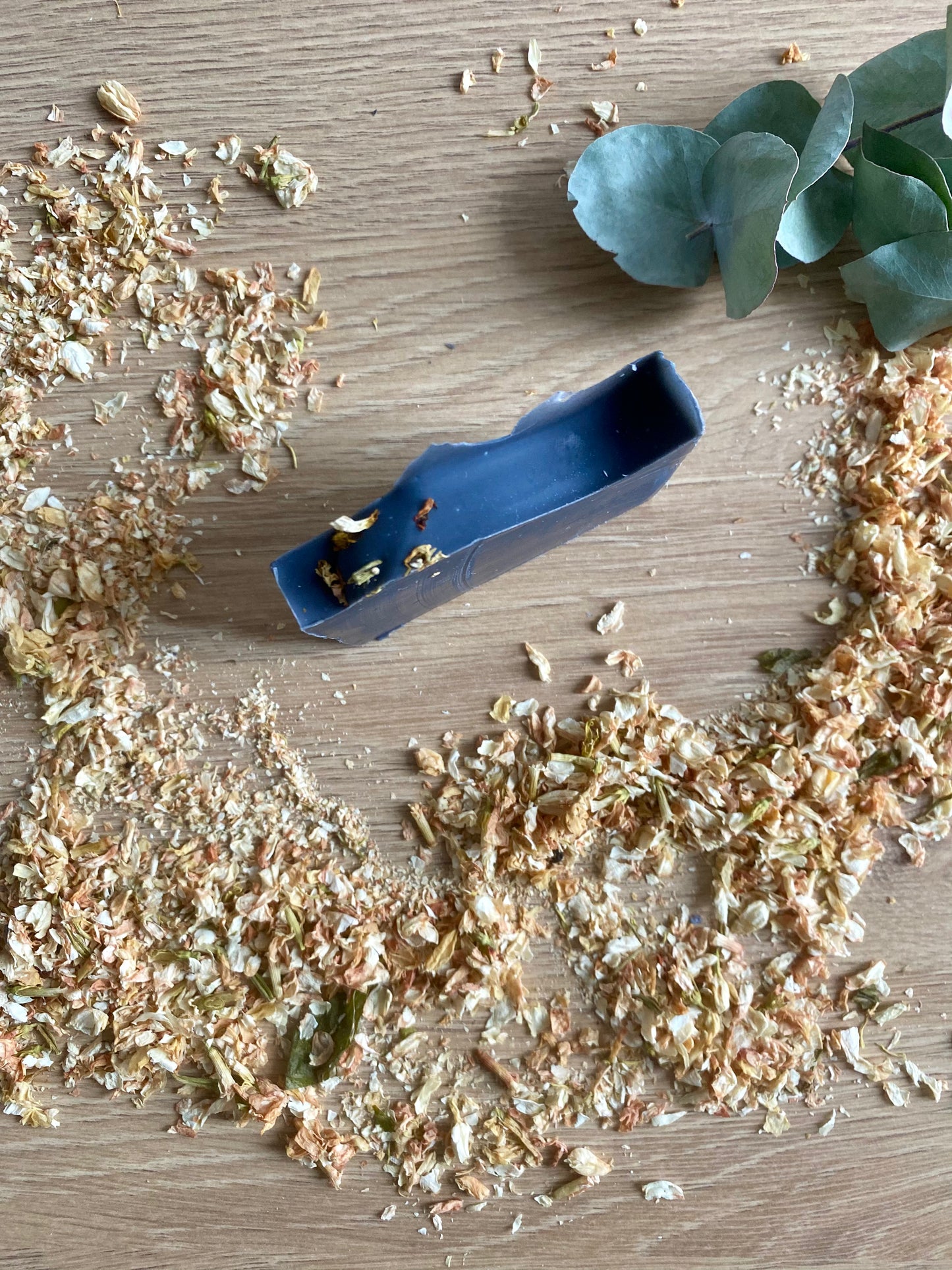 Ingredients & More Info
INCI List All Soaps

INCI ROSA SAVON: OLIVATE DE SODIUM, AQUA, COCOATE DE SODIUM, BEURRE DE KARITÉ DE SODIUM, GLYCÉRINE, BEURRE DE CACAO SODIQUE, AMANDE DOUCE SODIQUE, CASTORATE DE SODIUM, EXTRAIT DE RACINE DE RUBIA TINCTORUM, HUILE DE LAVANDULA HYBRIDA, KAOLIN, HUILE DE CYMBOPOGON MARTINI, HUILE DE PELARGONIUM GRAVEOLENS, FLEUR DE ROSA CENTIFOLIA, FLEUR DE JASMINUM GRANDIFLORUM, CITRAL, CITRONNELLOL, GÉRANIOL, LIMONÈNE, LINALOOL
INCI CAMOMILLA SAVON: SODIUM OLIVATE, AQUA, SODIUM COCOATE, SODIUM SHEA BUTTERATE, SODIUM COCOA BUTTERATE, SODIUM SWEET ALMONDATE, GLYCERIN, SODIUM CASTORATE, CHAMOMILLA RECUTITA FLOWER EXTRACT, CHAMOMILLA RECUTITA FLOWER, KAOLIN
INCI MENTA SAVON: SODIUM OLIVATE, AQUA, SODIUM COCOATE, SODIUM SHEA BUTTERATE, GLYCERIN, SODIUM COCOA BUTTERATE, SODIUM SWEET ALMONDATE, SODIUM CASTORATE, MONTMORILLONITE, MENTHA PIPERITA OIL, KAOLIN, LAVANDULA HYBRIDA OIL, ROSMARINUS OFFICINALIS FLOWER OIL, MENTHA PIPERITA LEAF POWDER, PAPAVER SOMNIFERUM SEED, GERANIOL, LIMONENE, LINALOOL
INCI AGRUMI SAVON: SODIUM OLIVATE, AQUA, SODIUM COCOATE, SODIUM SHEA BUTTERATE, GLYCERIN, SODIUM COCOA BUTTERATE, SODIUM SWEET ALMONDATE, SODIUM CASTORATE, CITRUS AURANTIUM DULCIS FRUIT, ILLICIUM VERUM FRUIT, LAVANDULA HYBRIDA OIL, CITRUS LIMON PEEL POWDER, CITRUS AURANTIUM DULCIS PEEL POWDER, MOROCCAN LAVA CLAY, CITRUS LIMON PEEL OIL, CITRUS AURANTIUM DULCIS PEEL OIL, LITSEA CUBEBA FRUIT OIL, CITRAL, GERANIOL, LIMONENE, LINALOOL
INCI DISTINTO SAVON: SODIUM OLIVATE, AQUA, SODIUM COCOATE, SODIUM SHEA BUTTERATE, GLYCERIN, SODIUM COCOA BUTTERATE, SODIUM SWEET ALMONDATE, SODIUM CASTORATE, CHARCOAL POWDER, MENTHA PIPERITA OIL, MELALEUCA ALTERNIFOLIA LEAF OIL, KAOLIN, JASMINUM GRANDIFLORUM FLOWER, LIMONENE
INCI ROSMARINO SAVON: SODIUM OLIVATE, AQUA, SODIUM COCOATE, SODIUM SHEA BUTTERATE, GLYCERIN, SODIUM COCOA BUTTERATE, SODIUM SWEET ALMONDATE, SODIUM CASTORATE, ROSMARINUS OFFICINALIS FLOWER OIL, CHLORELLA PYRENOIDOSA POWDER, ROSMARINUS OFFICINALIS LEAF POWDER, KAOLIN, CITRUS LIMON PEEL OIL, ROSMARINUS OFFICINALIS LEAF, CEDRUS ATLANTICA BARK OIL, LAVANDULA ANGUSTIFOLIA FLOWER, CITRAL, ISOEUGENOL, LIMONENE, LINALOOL
Main Ingredients Benefits

OLIVE OIL

Olive oil contains skin loving antioxidants making it deeply moisturizing and nourishing to the skin.

Containing polyphenols and oleic acid, olive oil is effective in improving skin tone and texture. In soap making this ingredient makes a very conditioning bar of soap.

SHEA BUTTER

Shea butter in its raw natural form has plenty of skin benefits.

Effective for dry skin:

Shea butter's fatty acid content includes linoleic, oleic, stearic, and palmitic acids making it highly moisturizing. This butter restores the barrier between your skin and the outside environment, keeps the skin hydrate for long and reducing dryness.

Effective for sensitive skins:

Shea butter is known to be perfect for sensitive skin, due to the presence of several fatty acids that do not completely saponify during the soap making process. The soap therefore does not dry your skin after washing it.

Effective for mature skins:

Shea Butter has high levels of vitamins A and E, these vitamins are antioxidants and ensure your skin is nourished, protected and elastic. 

COCONUT OIL

Coconut oil is well known for its many skin benefits: it hydrates, smooths and protects the skin.

In soapmaking coconut oil has fatty acids with high cleansing power and it helps making a bar of soap very hard.

We have formulated a recipe with a % of coconut that it's not too high so it's not drying your skin, due to its high cleansing power.

ALMOND OIL

It is an excellent emollient, known for its ability to soften and recondition skin. It is rich in proteins and extremely nourishing, soothing dry skin.

COCOA BUTTER

In skincare, Cocoa Butter being full of antioxidants helps us protecting against sun damage.

Thanks for its fatty acids, cocoa butter has a rich and denser feel so it can create a sort of barrier over the skin to hold moisture.

CASTOR OIL

Castor oil is a common ingredient in many beauty products. It's a thick oil, rich in essential fatty acids that moisturize the skin. In soapmaking, it is a luxury ingredients that creates and stabilizes a beautiful lather.
Packaging

All packaging is eco-friendly and plastic free: tissue paper is made with recycled paper, boxes, tape and cards are compostable.

Each body soap in the gift boxes collection is wrapped with a label made with seed paper. There are seeds embedded in the paper so if you leave the paper in wet soil .. flowers may grow! 

All other body soaps are labeled in 100% recycled paper sprinkled with small pieces of grass , this paper is a true ode to nature: the papers are acid-free, FSC certified for sustainable forest management, made in France in the Vosges since 1880.
Care Instructions

Soap bar can last weeks and they last longer if you allow them to fully dry between uses. A soap draining dish is a must when you use a handmade soap due to its natural glycerin content that attracts water.

The soap has to dry out between uses.
Precautions for use/Instructions

Precautions for use: Keep out of the reach of children. Do not swallow. Avoid contact with eyes. If skin irritation occurs, discontinue use. Do not use for children < 3 years old.
Instruction: Use to wash the body hands. Water rinser.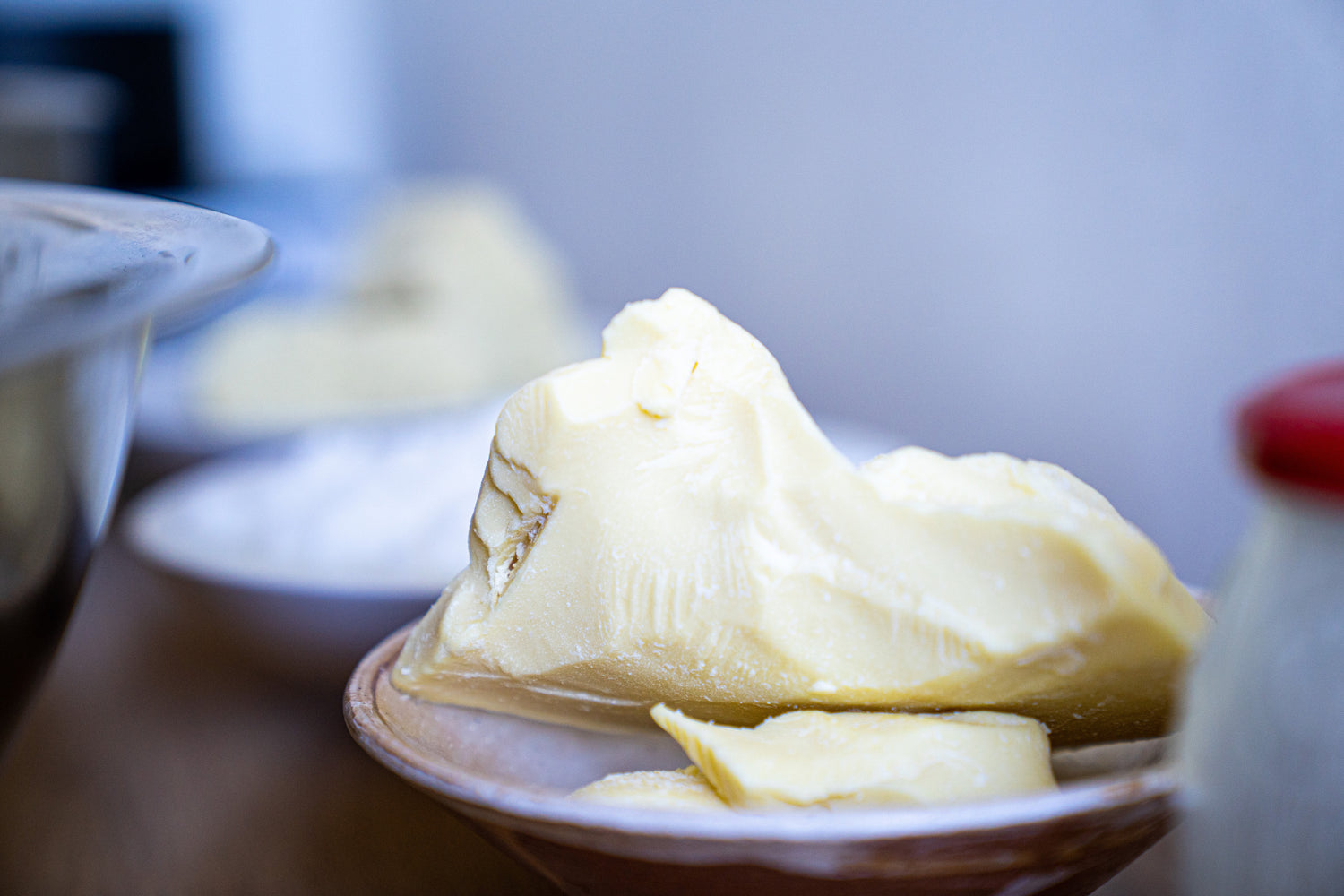 Ethical - Organic - Vegan - Cruelty Free
Our suppliers are carefully selected based on their organic certifications & sustainable missions:
- Cruelty-free coconut oil: in some countries monkeys are taken away from their mothers when babies, chained & caged, are forced into labor to pick coconuts from trees for the big intensive coconut oil production farms.
-Extra virgin olive oil from central Italy: carbon-neutral mill
-Essential oil distiller from the South of France: circular economy & low waste
-Raw shea butter from Burkina Faso: supporting a community of women who run a cooperative
More on our Suppliers
Free Shipping & Eco-Incentive

48hr Order Processing. Free Shipping in France Metropolitan with local post office. Eco-Friendly Incentive: pickup in Paris outside the laboratory in 15th and 5th arr., for an extra free soap.

Returns Policy

Returns within 30 days. Returns have their own carbon footprint. As an eco-friendly company, if you receive the wrong product, you will be refunded without having to return the original item. Full refund policy in footer.