...just some romance...  
Rich in extra conditioning properties, with the addition of high holeic sunflower oil, this soap will wash your skin and will leave it soft and moisturized.
Scented with pure essential oils of floral palmarosa, jasmine, lavender and rose geranium.
Topped with rose buds and rose petals.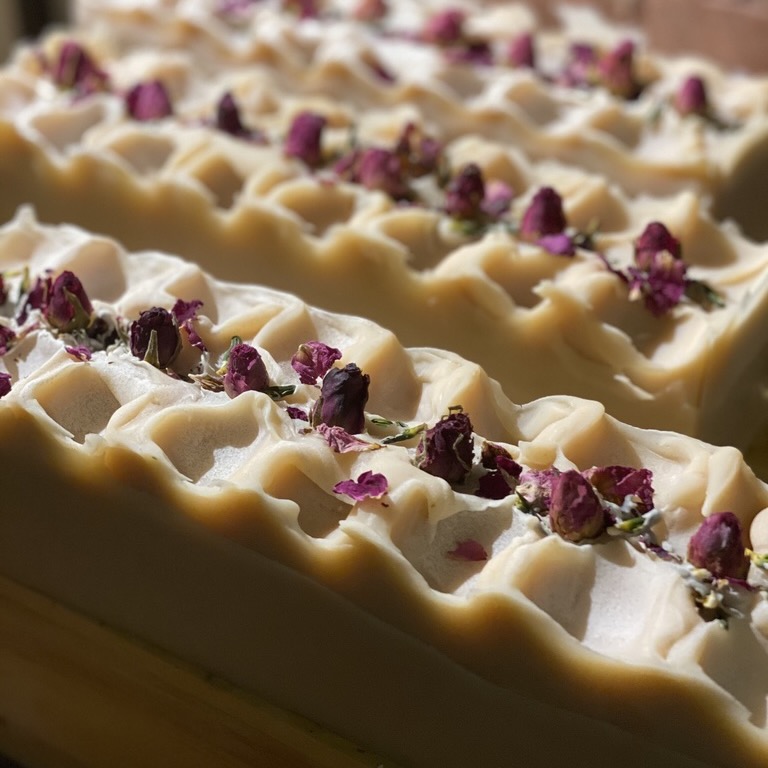 Natural Roots wonders
This soap is made with olive oil infused with madder root (rubia cordiflora) at low heat before the saponification process.
Rubia Cordiflora is a climbing plant with small flowers and small roots.
Its roots have been used for centuries as a source of red pigment.
The use of this root decreased when synthetic alternatives were introduced.
Ingredients, benefits & more
We are committed in choosing natural plant based ingredients of high quality that are organic, ethically and sustainably sourced. All of our oils are virgin and cold pressed, butter are raw and unrefined.
We strive to ensure our products contribute to the well-being of people and planet, and our efforts put us on track towards a brighter future.
Main Ingredients & Benefits
Packaging & Shipping
All packaging is eco-friendly and plastic free: tissue paper is made with recycled paper, boxes, tape and cards are compostable.
Each soap is wrapped with a label made with seed paper. There are seeds embedded in the paper so if you leave the paper in wet soil .. flowers may grow!
Domestic and International shipping
Get in touch - Return Policy