Regular price
Sale price
€8,50 EUR
Unit price
per
Sale
Sold out
Dish soap that cleans all types of dishes. Formulated with high cleansing power it effectively degreases without leaving a trace. Biodegradable and made in Paris by hand.
The soap is as simple as its short list of ingredients: saponified organic coconut oil, natural glycerin, organic lemon essential oil.
Its packaging is biodegradable and compostable: it does not contain plastic. It can be bought simply wrapped in paper or gift wrapped in a natural jute pouch that can be reused at home in several ways.
View full details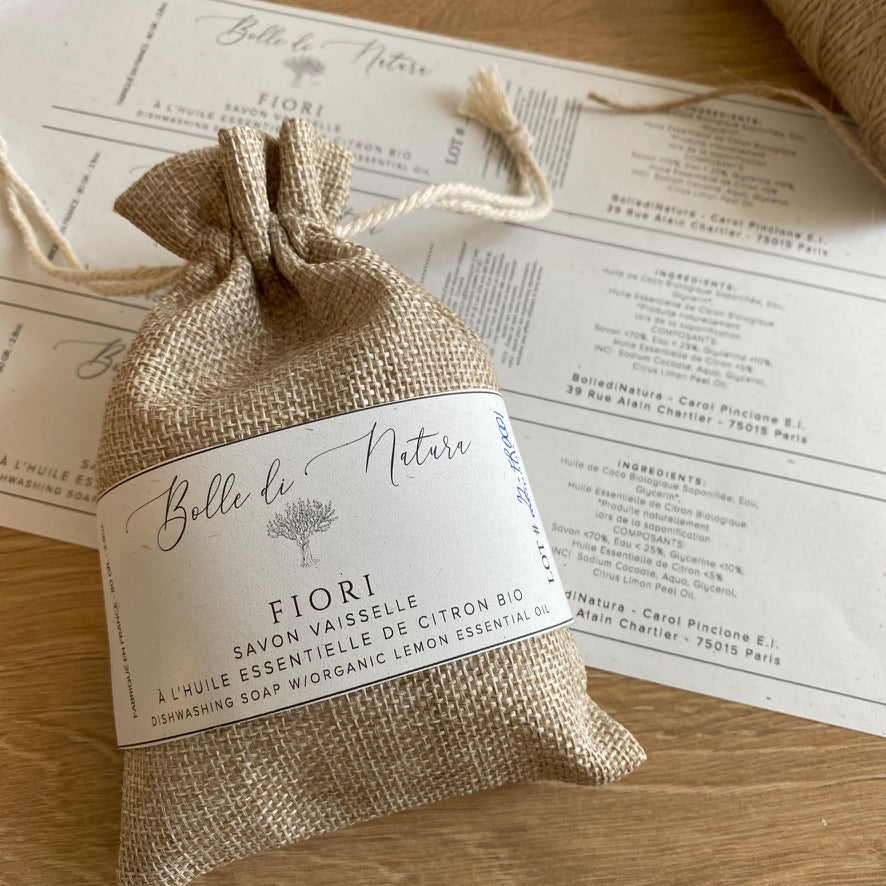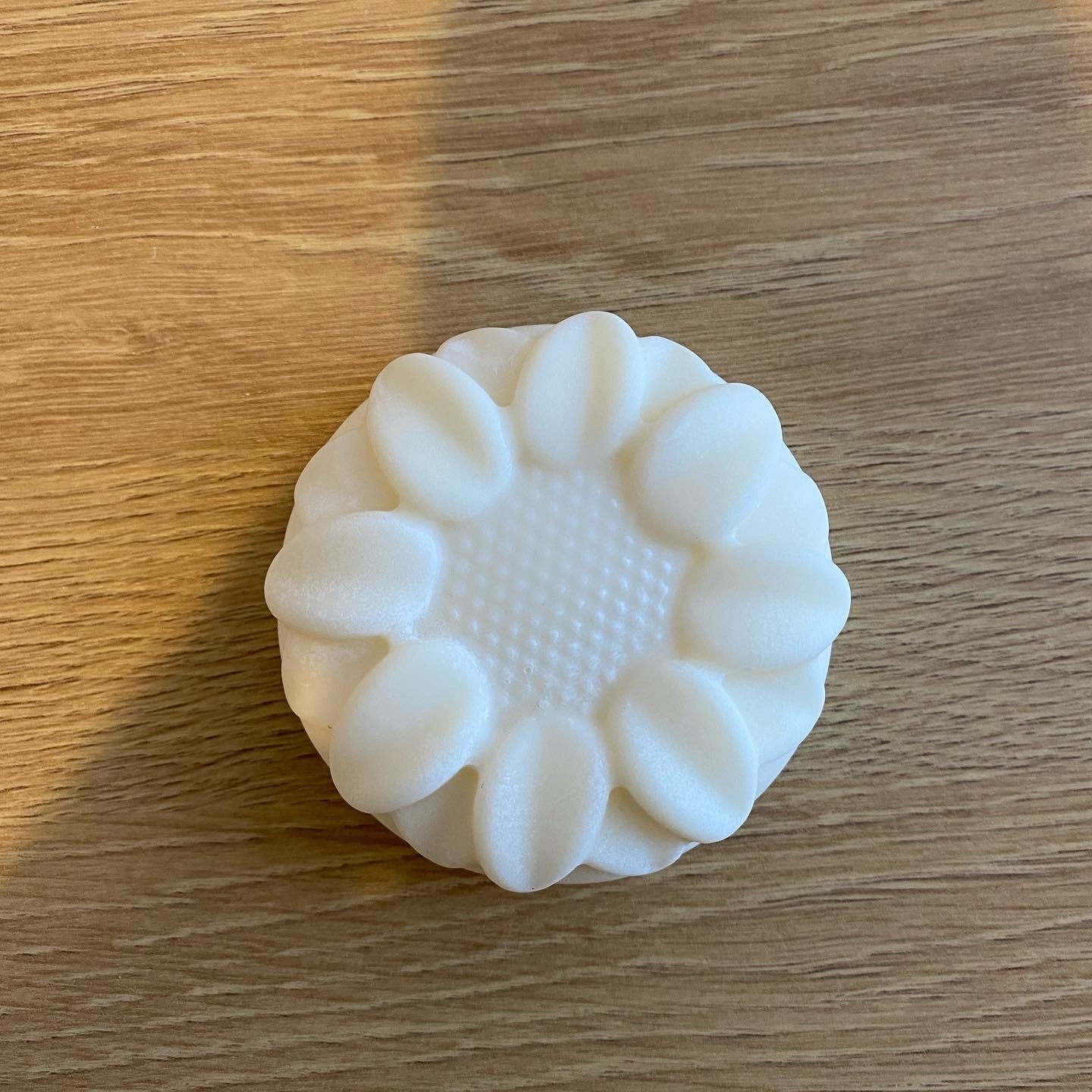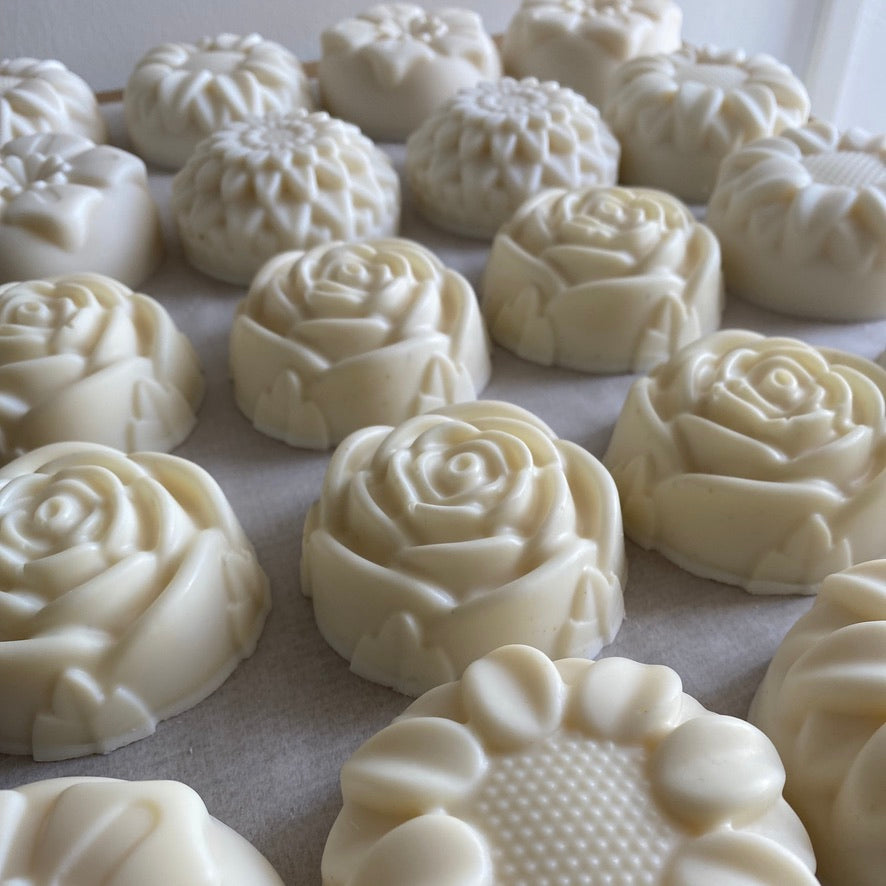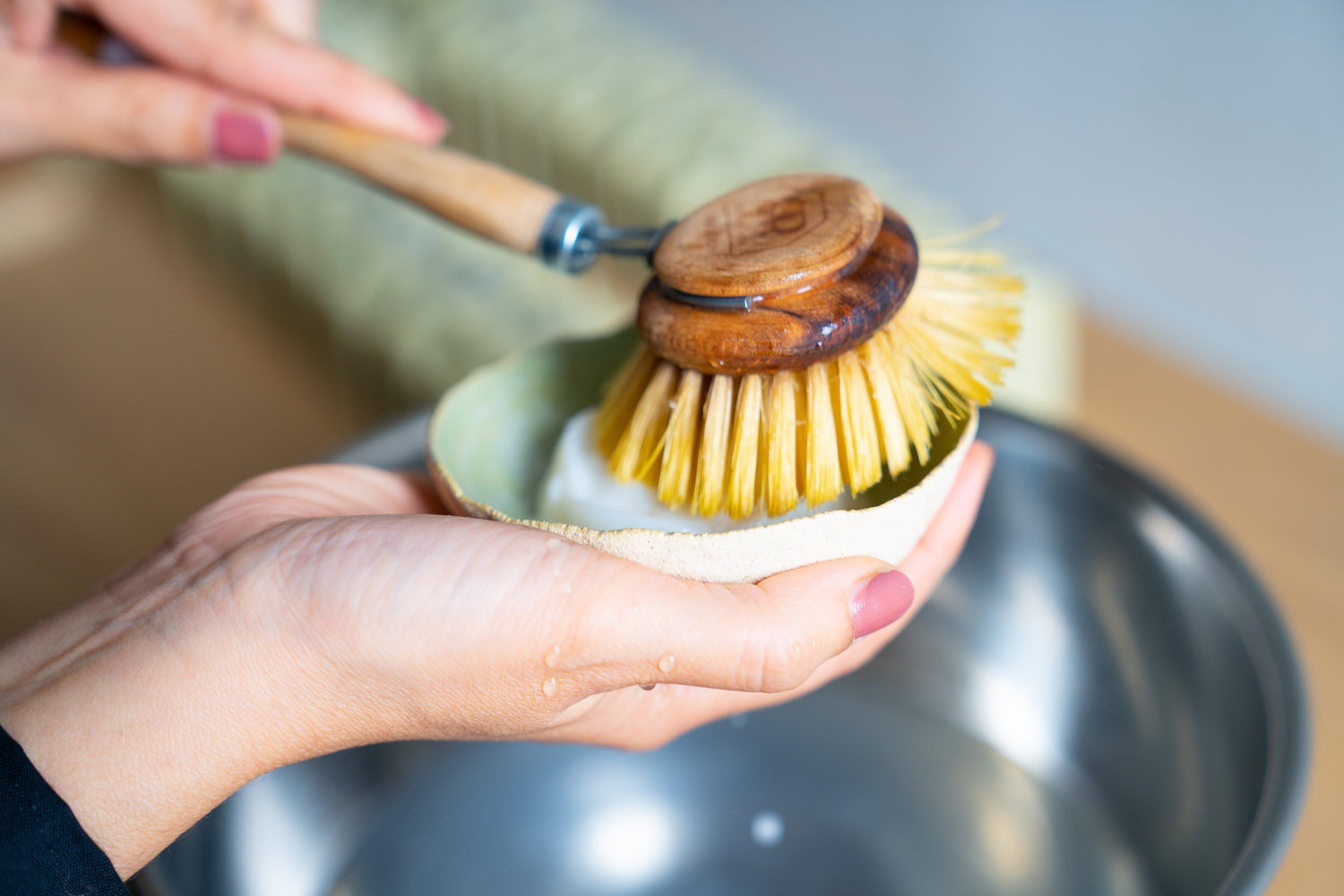 Ethical and Organic
Dye-free, preservative-free, vegan, not tested on animals and plastic free. Our solid dish soap replaces the many plastic bottles of dishwashing liquid in your kitchen. It is an effective cleaner made with saponified organic coconut oil and organic lemon essential oil.
Our coconut oil has high cleansing power. We source it from a small business in France that collaborates with a community of artisans in Sri Lanka. Their coconut is not picked exploiting monkeys, instead it's picked by artisans using bamboo sticks, the traditional way.
Our organic lemon essential oil is sourced from a distiller located in the South of France who is operating under the principle of circular economy. Lemon essential oil not only provides a nice citrus scent, but it's great at helping cut grease. It's considered one of the most antimicrobial essential oils making it a natural disinfectant.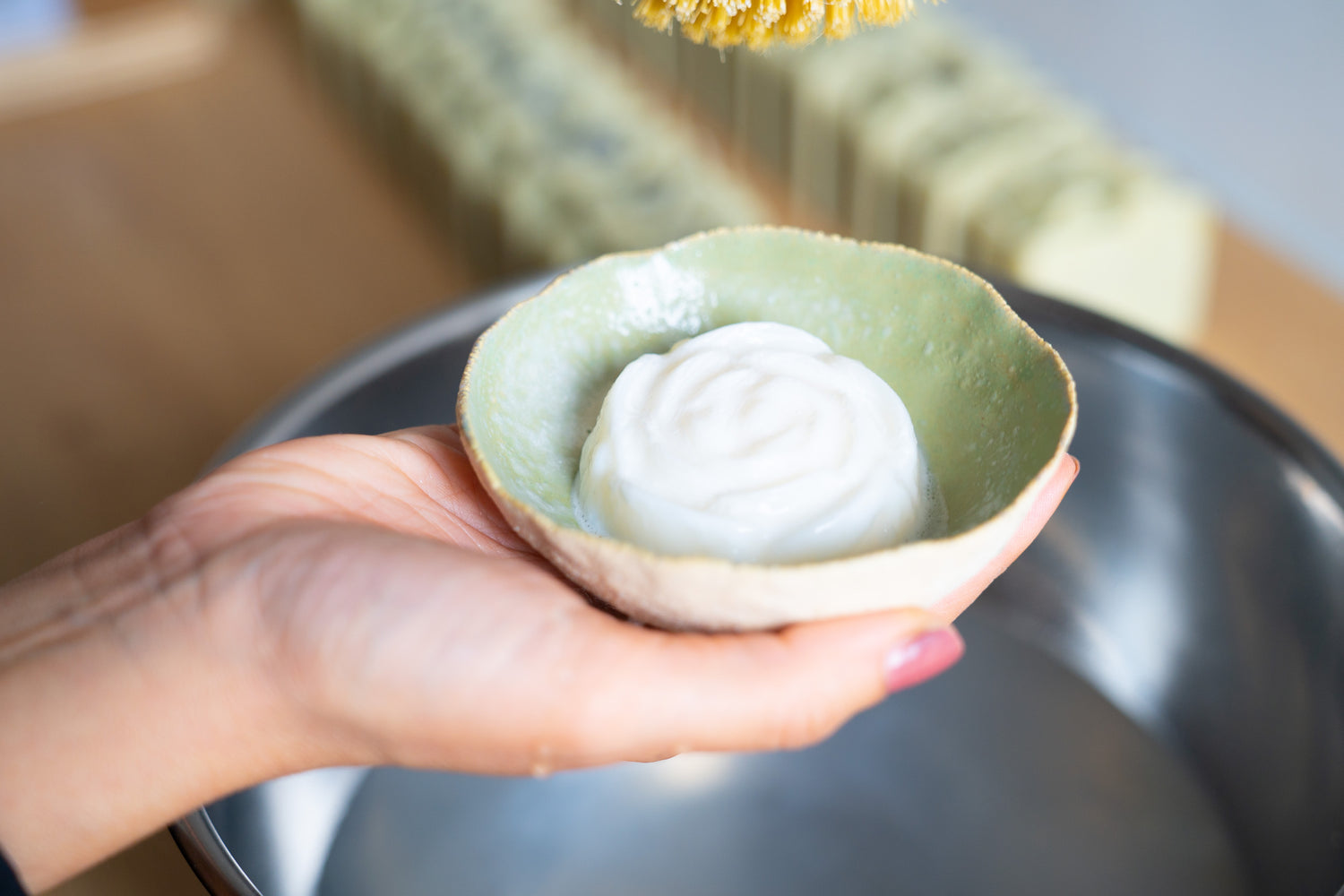 Free Shipping or Pick Up in Paris
We ship for free in France.
Further eco-friendly incentive? Get extra free soap samples if you pickup in Paris instead!
Free Shipping & Eco-Incentive

Order processing is 24-48 hrs through Post Office.

Eco-Incentive: Pick-Up outside of the laboratory to receive extra free soaps based on size of order.

Hassle-Free Returns

30 days if you wish to return your order. Full return policy in footer of the website.
Ingredients, Instructions & More
Main Ingredients & Benefits

COCONUT OIL

Coconut oil is well known for its many skin benefits: it hydrates, smooths and protects the skin.

In soapmaking coconut oil has fatty acids with high cleansing power and it helps making a bar of soap very hard.

We have formulated a recipe for our dish soap with 100% of coconut in order to achieve the highest cleansing power.

This soap does not have additional oils to make sure it leaves no film on dishes and glasses.

LEMON ESSENTIAL OIL

Lemon essential oil not only provides a nice citrus scent, but it's great at helping cut grease. It's considered one of the most antimicrobial essential oils making it a natural disinfectant.
Packaging

All packaging is eco-friendly and plastic free: tissue paper is made with recycled paper, boxes, tape and cards are compostable.

Each dish soap is wrapped with food grade paper. Gift wrapping is with a natural jute pouch.

All soaps labels are in 100% recycled paper sprinkled with small pieces of grass , this paper is a true ode to nature: the papers are acid-free, FSC certified for sustainable forest management, made in France in the Vosges since 1880.
Instructions for Use & Care

How to Use:
• Wet your sponge or a dish brush really well,
• Rub your sponge or brush directly on the solid soap.
• Clean, Degrease, Rinse

Soap bar can last weeks and they last longer if you allow them to fully dry between uses.

A soap dish is a must when you use a handmade soap.

Do not leave the wet brush on top of the dish soap.
Composants & Donnée Techniques

Sodium Cocoate, Eau, Glicerin, Huile Essentielle de Citron.

Odor and Color: Natural

Weight: 80 Gr.
Precautions d'Emploi

Respecter les mises en garde et
avertissements.

Pour plus d'informations sur les ingrédients :

http://ec.europa.eu/consumers/cosmetics/cosing/index.cfm?fuseaction=search.advanced

Ces informations sont basées sur nos
connaissances actuelles et décrivent le produit pour les seuls besoins de la
santé, de la sécurité et de l'environnement.

Elles ne devraient donc pas être interprétées
comme garantissant une quelconque propriété spécifique du produit
Let customers speak for us
LOVE these soaps!
I bought multiple scents and just started using the Rosa. The scent is amazing and the soap has a bit of actual rose petal inside. It lathers really nicely, leaves no soapy residue behind and leaves my skin feeling so clean and fresh. Can't wait to try the other scents and will definitely be purchasing again as soon as I runout.
Douceur absolue
Une excellente découverte! Les savons de Carol, en plus d'être extrêmement jolis, sont d'une douceur absolue et sentent hyper bon. Je conseille à 1000%
a feast for the senses
How a simple shower became a soothing luxurious experience! The silky texture is pleasant, and there's something about the color too that makes it satisfying.
Delightful soap!
I really love the subtle, fresh scent of this soap! Plus, it lathers well, rinses easily, and leaves my skin feeling clean and soft-- no soapy residue, whatsoever! Carol's wonderful line of soaps offers something for everyone, and each bar provides a pleasant bathing experience! I am a repeat buyer, and it has been fun choosing and using a variety of the soaps! And I'll definitely keep returning for more in the future! Highly recommend! :-)
Lotion works well, and quickly!
My hands are extremely dry from both the cold, winter weather, as well as frequent hand washing; so I purchased the shea butter lotion, with the hope that it would restore much-needed moisture to my skin! And after just one night, I noticed a difference! I applied the lotion before bed, and put on a pair of gloves, so that the lotion could "work its magic" overnight-- and it DID! So I am very pleased, and plan to use it on a daily basis, to keep my skin properly hydrated and soft! :-)
Exquisitely soothing!
This lip balm is wonderful-- SO smooth and soothing! My lips are painfully dry and chapped from the cold winter weather; and with the first use of this lip balm, I felt instant relief! I am not a lipstick user, but I do like to use lip balms, especially when my lips need moisture and healing. So I am very impressed with this comforting product, and highly recommend it for daily use! :-)
Yum!♡
The vanilla and cocoa really come through, and I love it! Feels wonderful!
Love
I am so excited for this one! Smells beautiful and love how it has espresso gounds in it!!!
♡
I really enjoy this bar especially with the oats, it gives light exfoliation. Its perfect!
Beautiful
I love Chamomile! So I had to get this one! It smells incredible! Will purchase again!
Love it!
I Love this one! Smells and feels so good!
Sustainability and small business
I started to use the first soap for the shower, to stop buying the classic plastic bottles shower gel. Well I love the soap, not only for the scent but because my skin doesn't get dry, it's really a great product, natural and made with non chemical ingredients. Then I bought more as gifts for my friends, already got positive feedback from them, which means I will buy more for Christmas, probably the orange based soaps. Highly recommend these products which by the way come in a very lovely packaging
Cocoa Butter Lotion Bar
I tried this bar and it worked on my dry skin! I can smell the chocolate on the bar and my hands. It's incredible and I love it! Can't wait to try out many beautiful items that you created! :) :)
AMAZING
I loved everything about it! First off the packaging is beautiful all Eco-Friendly 😊 right when I opened it i could smell the beautiful aroma! I have tried lotion bars before, but this one feels great! Super creamy but doesn't leave a greasy/oily feeling, it left my hands feeling nicely moisturized and soft. I would definitely recommend you try it!
Amaretto Amore!
Fantastic soap! Lathers well, rinses completely, and leaves skin feeling thoroughly cleansed! I have purchased and tried a variety of Carol's soaps now, and I LOVE each and every one of them! I am truly amazed at the difference between handmade soap and the 'store/commercial'-type soap, and am now convinced that handmade soap is much better for the skin; so much so, that I plan to continue to use ONLY handmade soap in the future! I highly recommend the purchase of these amazing soaps-- enjoy the luxurious- as well as calming and soothing- effect that they provide! :-)